Estate Services

As one of the nation's most experienced genealogical research firms, Morse Genealogical Services, LLC earned its reputation by digging deeper and prying harder. Through state-of-the-art technology, innovative resourcefulness, a substantial source network spanning the globe and good old fashioned research, the Morse Genealogical Services, LLC staff knows what it takes to get the job done. And, does it better than anyone.
Morse Genealogical Services, LLC incorporates state-of-the-art computerized research techniques and is linked worldwide to a vast amount of research databases. Its large research library is also utilized by their trained genealogists to ensure thorough investigations. Although technology plays a large role in each investigation, their multinational connections, experience and other hands-on resources are why clients, attorneys, banks and judges alike hold Morse Genealogical Services, LLC in the highest esteem.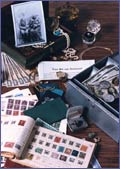 A company should be judged by the quality of its work and the integrity of its personnel. Morse Genealogical Services, LLC has assembled a group of trained professional genealogical investigators and researchers who are second to none. Years of experience. An extraordinary investigative team. Worldwide networking. Old fashioned research. And, above all integrity and sound work ethics. It all adds up to one thing... Morse Genealogical Services, LLC and its group of research companies are the experts with an impeccable track record that speaks for itself.
Click here for more information and answers to some common questions.
Services Include...
Locating Missing Heirs
Genealogical Charts
Proofs
Documentation
Genealogical Research
Affidavits of Due and Diligent Search
Expert Court Testimony
Corroboration of Relationships
Case Preparations
Submission of Claims
Document Translations
Foreign Research

"It always makes me happy to distribute money to people who did not know they were entitled to anything. It's heart warming to change someone's life for the better.

How many of us can name all of our relatives or old friends, money we have left in banks, people who might have named us in an insurance policy or funds that are owed to us from business dealings?

The best part is, we usually receive our fee after we put money in our client's hand. If they don't receive anything, they pay nothing. Absolutely nothing to lose... and everything to gain."

- Harvey E. Morse