Have we contacted you?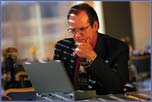 In a world where a corporation's size means strength, reputation signifies stability, experience denotes competence, and diversity means longevity, there are few companies that possess all of these virtues. Morse Genealogical Services, LLC is one such company.
Morse Genealogical Services, LLC specializes in locating people who are entitled to monies or assets of which they are unaware. Many estates, dormant bank accounts, stocks and bonds, as well as trusts, insurance benefits and abandoned property go unclaimed because a legal recipient cannot be located. Enter...Morse Genealogical Services, LLC
Since 1939, Harvey Morse's family has been locating the missing to recover the money, real estate and property to which their clients were lawfully entitled. Thousands, sometimes millions of dollars have been awarded to people, assets that would have otherwise remained unclaimed and subsequently forfeited.
Morse Genealogical Services, LLC works to the benefit of all with no advance fees. In fact, they are only compensated if monies are distributed to their clients. They have an elite staff of trained and experienced genealogical researchers. They are all dedicated to doing one thing -- locating missing people
Click here for more information and answers to some common questions.